Happy Memorial Day Weekend!
OK, so this may not be the kick off to summer we all had planned. However, you can still honor those who served our country and kick off the summer having lots of fun at home. Here are some tips to have a healthy weekend:
1. Celebrate in an Active Way – Don't make food the central focus of the weekend! Enjoy the weather and get moving outside.
2. Grill Out – Fire up the grill! You can grill all kinds of food, including lean meats, veggies, and fruit!
3. Be Together in New Ways – Memorial Day is a weekend where we spend time with loved ones and remember our fallen troops. Set up a Zoom barbecue with friends and family, do a virtual cooking class, or play a virtual game.
4. Limit Your Alcohol Intake – Alcohol increases your calorie intake and it tends to get us munching on unnecessary snacks. If you plan to drink, be mindful of the munching! And remember to track the drinks!
5. Practice Safety – Wear your masks, social distance, and wear sunscreen 😀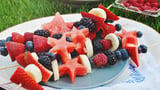 Traditional Memorial Day foods are big on taste but leaves a lot to be desired in terms of nutrition. There are some truly delicious recipes that won't weigh you down, ruin your healthy eating, or keep you from wearing your favorite summer clothes.
Here are some simple ideas:
~ Grill some pineapple, peaches, or watermelon
~ Grill asparagus, zucchini, corn on the cob, or eggplant
~ Blend some watermelon, ice, and mint for a cool slushie
~ Make kabobs - put your favorite meat and vegetable together and grill them
~ Make fruit kabobs - put your favorite fruit on a skewer. Make it patriotic!
~ Throw a piece of fish on foil, season with lemon and garlic, tent it and throw it on the grill